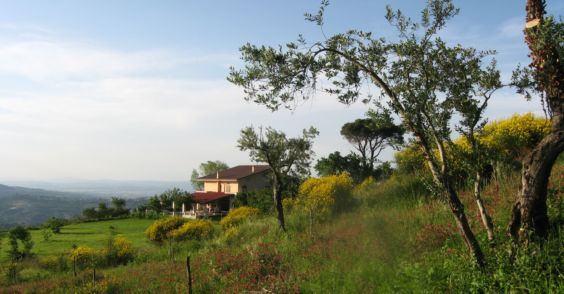 Introduction
"Otia" is a welcoming rural residence, situated in the green surroundings of San Mango sul Calore. The residence has seven rooms and a restaurant, all with unobstructed views of the surrounding hills. The residence offers many amenities and organised activities:
• Solarium and warm outside showers for those wishing to sunbathe
• Walking trails to explore the surrounding hills
• Mountain bikes
• Courses on local cuisine, on the preparation of liqueurs and preserves, as well as on the ancient craft of bobbin lace making
• Tasting of local products and wines
• Swimming pool, tennis courts and five-a-side courts in a nearby sports centre (10 minutes drive away) The country residence is situated on a hill at 650 metres above sea level, with Mount Tuoro at its back. Numerous trails depart from the residence, allowing guests to explore the surrounding woods, where it is possible to gather blackberries, wild strawberries, asparagus and wild mushrooms, depending on the season.

When are we open?
• From February to the November: Fridays to Sundays inclusive
• August: from the 10th to the last Sanday: every days
• We are also open during the week on public holidays (8 December, 31 Dicember and New Year's day)

How to find us
Take the motorway between Naples-Bari, and exit it at Avellino Est. Turn left after the tollbooth, at the roundabout. After 5-600 metres, follow signs for Reggio Calabria / San Mango sul Calore-Laceno. Follow the road uphill for c. 7-8 km, and after the exit for Parolise, follow the road to the right, then follow the sign for Chiusano-Castelvetere-San Mango-Zona Industriale. Do not exit at that point, but, after 5-600 metres, take the second exit for San Mango. After the tunnel follow the road for 1.7 km when you will find on the right a small uphill track with the OTIA sign.
Should you prefer to use sat nav, the coordinates are as follows:
• Lat: 40°56'54''
• Long.14°57'24''


Let us know if you have some alimentaries intollerances; we will be happy to build for you a special menu!